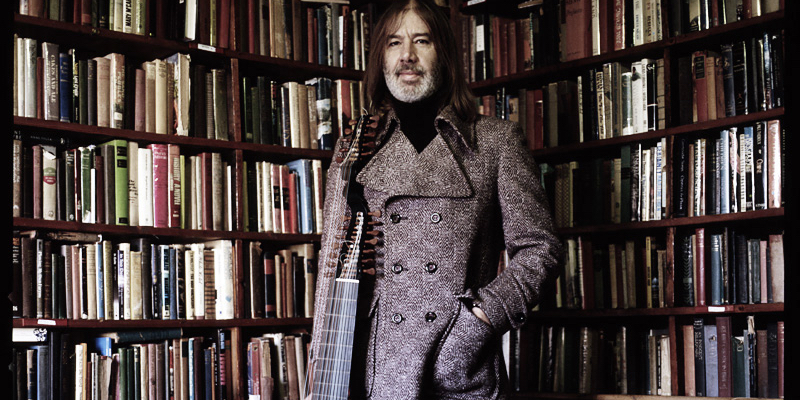 Event details
23.05.2017
20:00
ul. Madalińskiego 10 / 16; 02-513 Warszawa - Mokotów (Nowy Teatr)
KUP BILET / BUY TICKETS
Od maja do końca września Pardon, To Tu obejmie opiekę nad letnią klubokawiarnią i Świetlicą Nowego Teatru, gdzie będziemy organizować koncerty i bezpłatne warsztaty plastyczne dla dzieci. Przez 5 miesięcy będziemy mieli zaszczyt zaprosić was na koncerty z pogranicza free jazzu, awangardy, popu, elektroniki etc. Oto nasz trzeci koncert, który odbędzie się we wtorek, 23 maja 2017 na warszawskim Mokotowie przy Nowym Teatrze.
Jesteśmy zaszczyceni mogąc zaprosić was na ten wyjątkowy koncert: Jozef van Wissem, holenderski kompozytor minimalizmu oraz lutnista wraca do Pardon, To Tu! Pierwszy raz gościliśmy Jozefa w 2013 r., tuż po otrzymaniu nagrody "Cannes Soundtrack Award" za ścieżkę dźwiękowa do filmu jego wieloletniego przyjaciela i współpracownika Jima Jarmuscha pt. "Only Lovers Left Alive". Każdy jego późniejszy koncert w dawnym "Pardon, To Tu" na Placu Grzybowskim był wyprzedany. Jak będzie teraz? Przekonamy sie już niebawem. Warto podkreślić, że 3 dni wczesniej (20.05) odbędzie się światowa premiera najnowszej płyty (CD, zawierająca nagrania koncertowe) artysty pod tytułem "new lute music for film" i będzie można ją nabyć na koncercie. Zapraszamy!
➳ Wtorek, 23.05.2017 – g. 20:00
➳ Bilety: 35 PLN (w dniu koncertu) i 29 PLN (w przedsprzedaży)
➳ Adres: ul. Madalińskiego 10 / 16; 02-513 Warszawa – Mokotów
Bilety są dostępne za pośrednictwem naszej strony internetowej www.pardontotu.pl, strony Going. / lub przed koncertem (od godziny 19:00) 'na bramce' i od 03.05.2017 w letnim "Pardon, To Tu przy Nowym Teatrze" przy barze (kolekcjonerskie bilety)
➳ Ilość miejsc siedzących jest ograniczona.
To get into Jozef Van Wissem's world is to surrender to the inevitability – and timelessness – of a strange music created at its own pace, in a manner wholly of its creator's making. He sets the listener into a private world, looking out through a glass darkly, such is the intense quality of the music.
Brevity, simplicity, directness is the key. (Quietus)
Van Wissem is 'both an avant-garde composer and a baroque lutenist, and thus no stranger to dichotomy,' (New York Times)
He has been 'pushing the lute's agenda out of the academy and into more accessible circles' (Pitchfork)
He's performed over 800 solo lute concerts in churches and at concert venues around the world, including prestigious rock festivals like ATP and Primavera Sound, playing his all black, one-of-a-kind baroque lute custom build for him.
In 2013 van Wissem won the Cannes Soundtrack Award for best score at the Cannes Film Festival for "Only Lovers Left Alive". Van Wissem has played live and recorded with Jim Jarmusch, Tilda Swinton and Zola Jesus. On his latest record entitled ' When Shall This Bright Day Begin" he also sings.
The baroque sharp-tuned dances he weaves under His vocal line possess an "occult delicate beauty" (Mojo).
In May a live record will be released entitled " new lute music for film".
Organizator: Pardon, To Tu
Współorganizator: Nowy Teatr