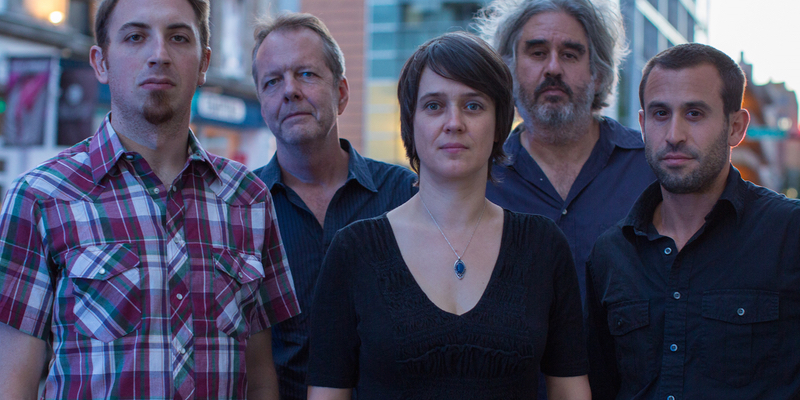 Ten nowo powstały nowojorski kwintet z saksofonistką Ingrid Laubrock na czele, będzie miłym zaskoczeniem dla wielbicieli ambitnego awangardowego jazzu
– nie tylko z względu wybitnych osobowości jak Tim Berne czy Tom Rainey, ale przede wszystkim z powodu wyjątkowego instrumentarium (dwa saksofony, puzon, tuba, perkusja). Jesteśmy bardzo podekscytowani, ze będzie to ich jedyny i zarówno pierwszy koncert w Polsce. Zapraszamy bardzo serdecznie!
• Ingrid Laubrock's Ubatuba [US]
• Niedziela, 04.10.2015, g. 20:30
• Bilety: 40 PLN
|| Ingrid Laubrock – saksofon tenorowy i altowy / kompozycje
|| Tim Berne – saksofon altowy
|| Ben Gerstein – puzon
|| Dan Peck – tuba
|| Tom Rainey – perkusja
/// » Bilety są dostępne w 'Pardon, To Tu' przy barze / za pośrednictwem naszej strony internetowej www.pardontotu.pl / lub przed koncertem 'na bramce'. Dla studentów, uczniów, emerytów, bezrobotnych przysługuje – za okazaniem ważnej legitymacji – na każdy koncert zniżka w wysokości 10 pln. Te tzw. 'wejściówki' będzie można zakupić wyłącznie przed samym koncertem 'na bramce' – do wyczerpania zapasów. ///
» Ingrid Laubrock
Originally from Germany, Ingrid Laubrock resides in Brooklyn, NY. Between 1989 and 2009, she was active as a saxophonist and composer in London/UK.
She performed and/or recorded with: Anthony Braxton, Dave Douglas, Kenny Wheeler, Jason Moran,Tim Berne, William Parker, Mark Helias,Tom Rainey, Mary Halvorson, Kris Davis, Tyshawn Sorey, Evan Parker, Luc Ex, Django Bates' Human Chain,The Continuum Ensemble and many others.
Ingrid's current projects as a leader are Anti-House, Sleepthief, Ingrid Laubrock Orchestra and her quintet featuring Tim Berne, Dan Peck, Ben Gerstein and Tom Rainey. Recent collaborations include LARK, Haste, Paradoxical Frog and Ingrid Laubrock / Tom Rainey Duo. She is also regularly performs with Anthony Braxton's Falling River Music Quartet, Tom Rainey Trio and Obbligato, Andrew Drury's Content Provider, Mary Halvorson Septet, Kris' Davis Quintet and Luc Ex' Assemblee.
Ingrid won the BBC Jazz Award for Innovation in 2004, was nominated for the BBC Jazz Award as 'Rising Star' in 2005 and won a Fellowship in Jazz Composition by the Arts Foundation in 2006. She won the 2009 SWR German Radio Jazz Prize and was one of the final nominees for the 2009 Westfalen Jazz Preis. She was also nominated as Rising Star on both soprano and tenor saxophones in the 'Downbeat Annual Critics Poll' and won the 'El Intruso Critics Poll for tenor saxophone, both in 2013. Ingrid was Improviser in Residence 2012 in the German city Moers. The post is created to introduce creative music into the city throughout the year. As part of this she led a regular improvisation ensemble and taught sound workshops in elementary schools.
Other teaching experiences include improvisation workshops at Towson University, Guildhall School of Music and Drama, Baruch College, University of Michigan and many others.
» Tim Berne
is a prolific band leader, composer and saxophonist. He moved to New York City in 1974 where he took lessons from Julius Hemphill. In 1979, Berne founded Empire Records to release his own recordings. He recorded Fulton Street Maul and Sanctified Dreams for Columbia Records, which generated some discussion and controversy, due in part to the fact that Berne's music had little in common with the neo-tradionalist hard bop performers prominent in the mid-1980s. In the late 1990s he founded Screwgun Records, which has released his own recordings, as well as others' music.
Beyond his recordings as a bandleader, Berne has recorded and/or performed with Bill Frisell, John Zorn, Mat Maneri, David Torn, Hank Roberts, Herb Robertson, the ARTE Quartett and as a member of the cooperative trio Miniature.
Tim also lead several bands with drummers Tom Rainey and Gerald Cleaver, keyboardist Craig Taborn, bassists Michael Formanek and Drew Gress, guitarists Marc Ducret and David Torn, and reeds player Chris Speed.
He is one-third of the group BBC (Berne/Black/Cline) along with drummer Jim Black and Nels Cline of Wilco. Tim Berne's quartet Snakeoil with Oscar Noriega, Matt Micthell and Ches Smith has released two CDs on ECM Recods.
» Ben Gerstein
born and raised in Santa Barbara, California, trombonist Ben Gerstein's music has come to focus primarily on free-improvisation as its means of composition, energy and exploration to liberate influences seeking integration with visual art, subconscious drama and fantasy, history, culture, nature and the outdoors.
Over the years he has collaborated fanatically, leading many different groups and projects, as well as recording works on trombone by composers such as Elliott Carter, Igor Stravinsky, Olivier Messiaen, Erik Satie, J.S. Bach and Carlo Gesualdo.
He has performed with Henry Threadgill, Tony Malaby, Kris Davis, and Tyshawn Sorey as well as many others.
» Dan Peck
is a tubist, multi-instrumentalist, and creative artist currently living and working in New York City. Since his move there in 2005, Dan has been active as a soloist, improviser, creative performer, composer, and artistic collaborator in a wide variety of settings.
He has premiered solo tuba works by Robert Sirota, Craig Woodward, and Ignacio Baca-Lobra, and has played solo works / recitals at St. Bartholomew's Church, Merkin Hall, and the Stone. In group settings, Dan has worked with conductors such as James Levine and Herbert Blomstedt, composers such as Anthony Braxton and Bruce Neely, and New York luminaries such as Dave Taylor and Dave Liebman.
In addition to playing with the International Contemporary Ensemble, Dan has also played with Alarm Will Sound, Second
Instrumental Unit, New World Symphony, and the Tanglewood Festival Orchestra, among others.
Equally at home in jazz/creative settings as he is in contemporary music, Dan plays in the traditional jazz band Grandpa Musselman and His Syncopators. The Syncopators play frequently at burlesque clubs in and around the City, and were invited to the Jazz at Aspen Festival of 2007, directed by bassist Christian McBride.
» Tom Rainey
Tom Rainey was born in Pasadena, California in 1957. Since moving to New York in 1979 he has performed and or recorded with the following artists:
John Abercrombie, Mose Allison, Julian Arguelles, Ray Anderson, Tim Berne, Jane Ira Bloom, Anthony Braxton, Nels Cline, Ted Curson, Kris Davis, Mark Ducret, Mark Feldman, Michael Formanek, Drew Gress, Mark Helias, Fred Hersch, Andy Laster, Ingrid Laubrock, David Liebman, Joe Lovano, Tony Malaby, Albert Mangelsdorff, Carmen McRae, Mike Nock, Simon Nabatov, New and Used, Anita O'Day, Andrea Parkins, Herb Robertson, Angelica Sanchez, Louis Sclavis, Brad Shepik,
Ken Werner, Denny Zeitlin.
Current activities include performing and recording music with Ingrid Laubrock and Mary Halvorson as well as his new quintet Obbligato. Tom also continues working with many of the aforementioned artists.