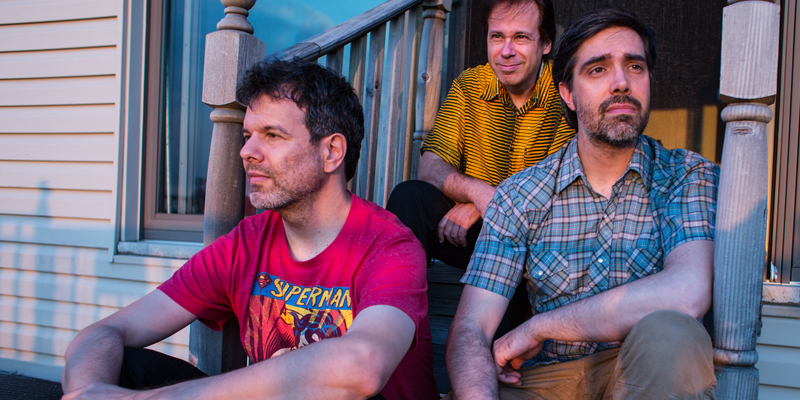 Namaszczone przez samego Johna Zorna nowojorskie trio Hypercolor, składające się z świetnych instrumentalistów
(gitarzysty Eyal Maoz, basisty James Ilgenfritz i perkusisty Lukas Ligeti – notabene syn wielkiego kompozytora György Ligeti) przyjedzie do 'Pardon, To Tu" w ramach ich pierwszej europejskiej trasy koncertowej, aby zaprezentować na naszej scenie nietuzinkową mieszankę jazz-rock'a, improwizacji, współczesnej klasyki i też punkowej zadziorności. Zapraszamy bardzo serdecznie!
▶ Hypercolor [US]
▶ Wtorek, 15.03.2016, g. 20:30
▶ Bilety: 35 PLN
▂ Eyal Maoz – gitara
▂ James Ilgenfritz – bas
▂ Lukas Ligeti – perkusja
▌Bilety są dostępne w 'Pardon, To Tu' przy barze / za pośrednictwem naszej strony internetowej www.pardontotu.pl / lub przed koncertem 'na bramce'. Dla studentów, uczniów, emerytów, bezrobotnych przysługuje – za okazaniem ważnej legitymacji – na każdy koncert zniżka w wysokości 10 pln. Te tzw. 'wejściówki' będzie można zakupić wyłącznie przed samym koncertem 'na bramce' (nie w przedsprzedaży) i do wyczerpania zapasów. ▌
▂ Hypercolor
Występ w "Pardon, To Tu" będzie częścią trasy koncertowej promującej ich debiutancki album "Hypercolor", wydany przez zasłużoną wytwórnię Tzadik (2015), ten dziwnie cudowny zespół namaszczony przez Johna Zorna prezentuje muzykę o jazz-rockowej energii wyrastającej w dużej mierze z nowojorskiego no-wave. Ich utwory oparte są naprzemiennie na złożoności i prostocie, zmierzają w kierunku entropii i prawie katastrofy na zamówienie lub doskonałego porządku. Nie boją się improwizacji, współczesnej klasyki, naleciałości etnicznych, art-rocka i punkowej zadziorności.
▂ Eyal Maoz
is a guitarist, composer, Tzadik and Ayler Records artist and a guest member of John Zorn's Cobra. Eyal performed at world-class venues in New York City, Tel Aviv, China, Vienna, Kino Center at Ebensee, Austria, and London. His ensembles performed at major music festivals worldwide such as the Montreal Jazz Festival, Red Sea International Jazz Festival, NYC 2007 Winter JazzFest, the New York Jewish Music and Heritage Festival, Florida Music Harvest, The Jewzapalooza Festival in NYC and more. He was featured on MTV and NPR.
"There's no doubt Eyal Maoz is in an exclusive club of post-Jimi Hendrix guitarists who include Nels Cline, Hilmar Jensson, Scott Fields, David Torn, and the legendary Terje Rypdal."– Michael G. Nastos – All Music Guide. September 2009
"A cutting edge guitarist who combines the harmonic lyricism of Bill Frisell with the angst and skronk of Marc Ribot…keep your eyes and ears on this guy" – John Zorn
▂ Lukas Ligeti
Transcending the boundaries of genre, composer and percussionist Lukas Ligeti has developed a musical style of his own that draws upon downtown NY experimentalism, contemporary classical music, jazz, electronica, and world music, particularly from Africa. Lukas creates music ranging from the through-composed to the free- improvised, often exploring non-Western elements, and has been participating in cultural exchange projects for the past 15 years.
Lukas has been commissioned by Bang on a Can, Kronos Quartet, Ensemble Modern, and the American Composers Orchestra, to name a few. He frequently performs solo on the marimba lumina, a rare electronic percussion instrument. As a drummer, he co-leads several bands including Burkina Electric, the first electronica band from Burkina Faso. He has also performed and/or recorded with John Zorn, Henry Kaiser, Raoul Björkenheim, Gary Lucas, Marilyn Crispell, John Tchicai, Jim O'Rourke, Borah Bergman, Eugene Chadbourne, and many others. He has led or co-led experimental intercultural projects in Florida, Côte d'Ivoire, Egypt, Uganda, Zimbabwe, and Lesotho, among other places, and has taught at universities in Ghana and South Africa.
Lukas' music is has been released to high acclaim on two CDs on the Tzadik label as well several more on the Intuition, TUM, Wallace, and Innova labels, among others. Major appearances have included those at the London, Montréal, Mulhouse, and Tampere Jazz Festivals, the Festival Wien Modern, and Carnegie Hall. In 2010, Lukas received the Alpert Award in Music.
▂ James Ilgenfritz
Brooklyn composer, bassist, and educator James Ilgenfritz has been active in creative music since the late 90s. His work has been praised in Time Out New York, All About Jazz, and Downbeat Magazine. Recent performances include work with Lukas Ligeti, Pauline Oliveros, John Zorn, and Anthony Braxton.
James has received grants and residencies from Issue Project Room, the American Composers Forum, and OMI Arts Center. Notable performance venues include Roulette, The Kennedy Center in Washington DC, The World Financial Center Winter Garden, Symphony Space, and the New Museum in SoHo. James hosts the Ten Thousand Hours Podcast, featuring conversations and duets with such musical innovators as Robert Dick and Pauline Oliveros. In 2011 James will be Artist-In-Residence at Issue Project Room in Brooklyn. He holds degrees from the University of Michigan and the University of California San Diego. James is on Faculty at the Preparatory Center of Brooklyn College and at Brooklyn Conservatory.
▌New York Times:
"Hypercolor – a full-tilt jazz-rock band … gripping self-titled debut"
▌All About Jazz:
"The real star of the show is the interplay between the three virtuosi"
▌Pop Matters:
"Is it jazz? Rock? A funhouse-mirror monstrosity à la Frank Zappa? No matter what one calls it, it's an undeniably daring and exhilarating ride"
▌NYC Jazz Record:
"A fierce unit specializing in a noise-bathed jazz/rock hybrid. Hypercolor hammer out, literally, a cerebral and methodical assault on the senses"
▶ Patronaty Medialne
Dwójka – Program 2 Polskiego Radia
Jazzarium.pl
PopUpMusic.pl
JazzPRESS
musicNOW
Instytut Improwizacji
FYH
JazzSoul.pl
Radio Aktywne
5kilo kultury
Kultura dla Studenta SGH
Warszawski Serwis Kulturalny
UW/AŻAJ
Polish Jazz
Uwolnij Muzyke
Warsaw Insider
Glissando