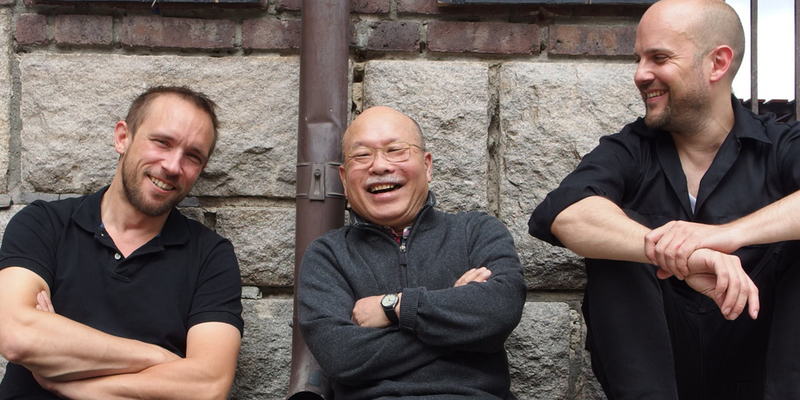 Event details
03.05.2017
20:00
ul. Madalińskiego 10 / 16; 02-513 Warszawa - Mokotów (Nowy Teatr)
KUP BILET / BUY TICKETS
Od maja do końca września Pardon, To Tu obejmie opiekę nad letnią klubokawiarnią i Świetlicą Nowego Teatru, gdzie będziemy organizować koncerty i bezpłatne warsztaty plastyczne dla dzieci. Przez 5 miesięcy będziemy mieli zaszczyt zaprosić was na koncerty z pogranicza free jazzu, awangardy, popu, elektroniki etc. Zatem czas ogłosić nasz pierwszy koncert, który odbędzie się we środe, 03 maja 2017 na warszawskim Mokotowie:
Z wielką radością możemy poinformować, że na ich pierwszym i jedynym w Polsce koncercie wystąpi trio Arashi, czyli japoński saksofonista, 71-letni Akira Sakata, szwedzki basista, znany przede wszystkim z zespołu FIRE!, Johan Berthling i Paal Nilssen-Love, perkusista którego chyba nie trzeba przedstawiać. Zapraszamy!
➳ Środa, 03.05.2017 – g. 20:00
➳ Bilety: 35 PLN (w dniu koncertu) i 29 PLN (w przedsprzedaży)
➳ Adres: ul. Madalinskiego 10 / 16; 02-513 Warszawa – Mokotów (Nowy Teatr)
Bilety są dostępne za pośrednictwem naszej strony internetowej www.pardontotu.pl, strony Going. / lub przed koncertem (od godziny 19:00) 'na bramce' i od 28.04.2017 w letnim "Pardon, To Tu przy Nowym Teatrze" przy barze (kolekcjonerskie bilety)
➳ Ilość miejsc siedzących jest ograniczona.
Arashi means "storm" in Japanese, and this word is indeed apt to describe the ultrapowerful music of this trio put together by the legendary saxophonist and clarinetist Akira Sakata. Accompanied here by a diabolical, Nordic rhythm, Sakata is capable of unleashing free sparkling illuminations but also more intimate, always personal, atmospheres. Arashi alternates thunderstorms in the form of rapid and intense free assaults, with moments of pure contemplation (the calm after the storm ?) where Akira Sakata uses a warm and moving clarinet, or some powerful throat singing, by which we are instantly transported.
Arashi had its debut during Molde Jazzfestival in July 2013. Since then, the trio has made two albums together — 2014's Self-Titled debut and 2016's "Semikujira," — both released on CD and Vinyl by Trost Records in Austria. After three succesful tours in Japan and Europe, Arashi will hit the road again this spring with performances in Poland, Italy and Austria. The music is improvised and of high energy. All three players are known for their stamina and will to push themselves and the music beyond traditional boundaries.
Akira Sakata, now at the age of 71, represents the hard-core of Japanese Free Jazz, and has a reputation of never leaving the stage dry. Through the work with pianist Yosuke Yamashita and drummer Takeo Moriyama, he has toured throughout the whole of
Europe and United States. Now, with a new trio, Europe and elsewhere will be able to experience the strength of Japanese Free Jazz.
Johan Berthling has for many years established himself as a powerful player through bands like Fire!, Fire! Orchestra, Nacka Forum, Sten Sandell Trio and Tape. He is also one of the founders of the Swedish Label Häpna.
Paal Nilssen-Love has stated his position as one of the most profiled drummers in Europe today. He has made numberless performances at festivals and clubs all over the world and participated on more than 300 recordings. He curates two annual festivals – All Ears & Blow Out and also runs his own label PNL Records.
Press Quotes
For those who have been looking for a solid free jazz effort, Arashi delivers the goods. Sakata, Berthling and Love play hard and furious, but assured, and the interplay between the three is at a high level. It's like a free jazz throwdown answer to Elvin Jones' classic "Putting It Together." It gets my highest recommendation. — Stefan Wood, Free Jazz Collective
This is a superb set, a rounded performance, satisfyingly intense and perfectly moderated. The trio's sound has been beautifully captured, and the whole is nicely presented by Trost (the CD edition comes in a sturdy gatefold card sleeve, with art by Sagaki Keita). If you don't know Sakata already, get in. — Tim Owen, Dalston Sound
This is a trio of like-minded, fearless musicians who like their music hot, steamy and climatic and would not settle for less than that. — Eyal Hareuveni, All About Jazz
Never short of energy & extreme enthusiasm cascading at high-pressure through the stormchannel. The individual ebullitions & expressions plus their combined interaction are exceptionally gratifying in all their smouldering pandemonic battery. — Kanju, Jigokuki
Organizator: Pardon, To Tu
Współorganizator: Nowy Teatr