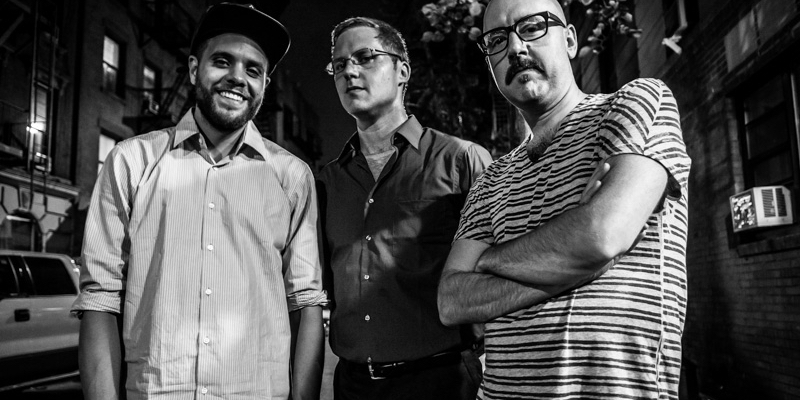 KUP BILET / BUY TICKETS
Od anarchii do demokracji. Peter Evans zmienia bieg na niższy grając z Zebulon Trio.

Zwykle jego muzyka jest czystą anarchią lub zmienia jazz w sport ekstremalny. 'Zebulon Trio' jest zespołem demokratycznym, dokładnym przeciwieństwem tradycyjnej koncepcji "solo plus sekcja rytmiczna". Przeciwwagą dla trębacza jest wybitny John Hébert na kontrabasie i perkusista Kassa Overall.
Bardzo się cieszymy ze w 'Pardon, To Tu' będziemy ich gościć na jedynej dwudniowej rezydencji podczas ich europejskiej trasy koncertowej, która obejmuje 7 miast w sześciu krajach. Zapraszamy bardzo serdecznie!
• 2 Nights with the 'Peter Evans Zebulon Trio' [US]
• Poniedziałek & Wtorek, 04./05.05.2015, g. 20:30
• Bilety: 40 PLN (1-Dniowe) / 70 PLN (Karnet 2-Dniowy)
• Peter Evans – trąbka
• John Hébert – kontrabas
• Kassa Overall – perkusja
"Wszystkich nastawionych na avant zaskoczą kolejno: śliczne melodie, synkopa, spacerujący jak-gdyby-nigdy-nic kontrabas, czytelna progresja akordów, radość z gry. W grze Evansa słychać dynamikę Freddiego Hubbarda, a czasem nawet beztroskę Cheta Bakera, ale to istotne, że ponad wszystkim unosi się nowoczesna syntaktyka, która pozwala trębaczowi (pozostałym muzykom również) uniknąć pułapek maniery i zapożyczeń. Dochodzę do sedna: Zebulon trio unika skrajów, to wspomniany wyżej "stan pośredni", odcień szarości – nie jest ani postmodernistycznym błaznem, ani konserwatywnym nudziarzem. Jak gdyby wszystkie przepychanki w historii jazzu traciły znaczenie." – Michał Pudło (Screenagers.pl)
» John Hébert
bassist, was born in New Orleans, Louisiana where he first began to study double bass with Bill Huntington. John attended Loyola University of New Orleans where he received a full scholarship. After two years of performing with many of New Orleans greatest musicians and performing at various clubs including the New Orleans Jazz and Heritage Festival he moved to the New York tri-state area to attend William Paterson University where he continued his studies under bassist, Rufus Reid and received a Bachelor of Music in Jazz Performance.
Since graduating in 1995, John has lived in the New York City area and established himself as a highly sought after bassist. He has worked along side world famous artists such as Andrew Hill, Lee Konitz, Paul Bley, John Abercrombie, Kenny Wheeler, Paul Motian, Joe Maneri, Mary Havorson, Tomasz Stanko, David Liebman, Uri Caine, Greg Osby, Bill Stewart, Marc Copland, Fred Hersch, Toots Thielemans, Maria Schneider, and many others.
In recent years, he has taken on the role of bandleader of various projects. His group Byzantine Monkey, released their first CD in June 2009 on the Firehouse 12 label. It was reviewed in Downbeat and received 4 stars. "On his first album as a leader he displays a sonic vision that's all his own," says Peter Margarsak. In 2010, John Hébert Trio released Spiritual Lover on the Clean Feed label to very positive reviews. According to Stuart Broomer, "it's a trio of genuinely equal parts and plays music of great melodic strength." In 2011, John formed his Rambling Confessions quartet which has performed at well known clubs such as The Stone and Jazz Gallery.
He is also named in Downbeat's 2006, 2007, 2008, 2009 and 2010 Critics Poll as a "Rising Star Acoustic Bassist." Most recently in 2011, John won the poll as "Rising Star Acoustic Bassist." From 2001 until Andrew Hill's passing in 2007, John worked with Mr. Hill in various ensembles. John is also featured on Andrew Hill's last Blue Note release, "Time Lines" which was awarded "Record of the Year" by Downbeat's Jazz Critics Poll in 2006.
John has also performed around the world at festivals such as the North Sea Jazz Festival, Tampere Jazz Festival, Montreal Jazz Festival, Moers Jazz Festival, Ear Shot Jazz Festival and San Francisco Jazz Festival. He can also be heard in some of New York City's most renowned venues such as The Village Vanguard, Blue Note, The Jazz Standard, Birdland and Iridium.
In 2011 John was awarded the French American Jazz Exchange Grant from the French Cultural Institute and Mid-Atlantic Arts Foundation for his work with Parisian pianist Benoit Delbecq and New York drummer Gerald Cleaver. The follow up to the trio's first recording was released in January of 2014. The album entitled Floodstage on Clean Feed records has already gained much attention since its release.
» Kassa Overall
Kassa "Purush" Overall is either the last of a dying breed or the beginning of a new era. Determined to create art his own way, he is making a zig zag path through the musical world like no other. He performs as a drummer in various styles, sometimes almost contradictory formats, only to get closer to the sound that he truly believes in.
2014 was an extremely creative year and it looks like things are only getting more intense. Touring the world twice over with Dee Dee Bridgewater. Releasing a controversial project with Vijay Iyer and Mike Ladd, "The Veteran's Dreams Project." He has also gotten quite a bit of support from music blogs and college weirdos as a rapper, releasing mixtapes and videos with internet griot KOOL AD under the group name "Kool & Kass."
Just type some of these names into YouTube and you will be in for a musical acid trip. He also tours or records with other like minded musical adventurers such as Geri Allen, Theo Croker, Peter Evans and Steve Coleman. Be on the look out for solo releases of all types in 2015, and who knows what else!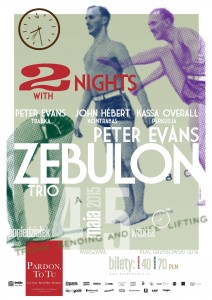 Poster By Marek Wajda