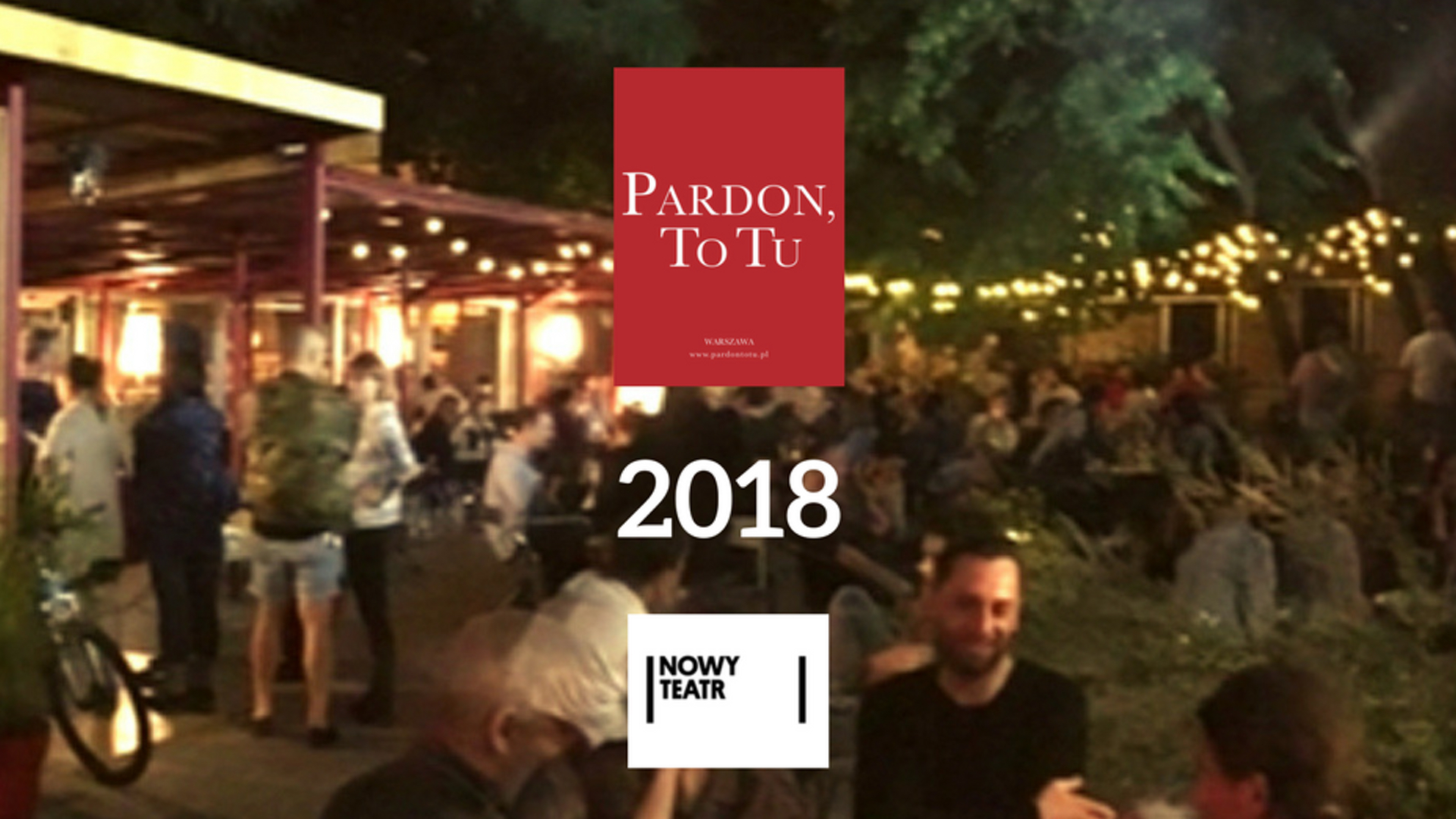 PARDON, TO TU wraca do NOWEGO TEATRU
Wracamy. Po zeszłorocznej udanej letniej współpracy z Nowym Teatrem, mamy przyjemność poinformować, że od maja do września 2018 r., Pardon, To Tu po raz kolejny obejmie opiekę nad letnią klubokawiarnią i Świetlica Nowego Teatru.
Oficjalne otwarcie jest zaplanowane na 23. maja 2018. Tego dnia odbędzie się też pierwszy koncert, który ogłosimy jeszcze w tym tygodniu. Urządzamy się przy Nowym Teatrze od 07. maja, więc jak tylko skończymy przygotowania i jak pogoda dopisze, to odpowiednio wcześniej otworzymy.
Od naszego ostatniego wpisu minęło ponad pół roku. Wykorzystaliśmy ten czas na odpoczynek, przemyślenia, słuchanie koncertów, no i przede wszystkim zrobiliśmy postępy w sprawie naszego nowego stałego lokum. Wybaczcie nam, nie chcemy tego zapeszyć, dlatego jeszcze nie możemy nic szczegółowo napisać. Jednak chcielibyśmy wam za waszą dotychczasową ogromną cierpliwość podziękować i prosimy trzymajcie kciuki. Mamy głęboką nadzieję, że już niebawem będziemy mogli zdradzić więcej konkretnych informacji.
Tymczasem, na początek zapraszamy wszystkich do Nowego Teatru! Do zobaczenia!
😉
We're back. After last year's successful summer cooperation with the "Nowy Teatr International Cultural Centre", it's a pleasure for us to inform you, that from May to September 2018, once more Pardon, To Tu will open a temporary summer cafe and venue at the "Swietlica" of the Nowy Teatr.
The official opening is scheduled for May 23rd, 2018. On that day will take place also our first concert, which we're going to announce this week. We'll set up the summer cafe from May 07th, 2018 on, and as soon we're going to finish it and if the weather plays along, we'll start earlier.
It's now more than half a year since we posted here the last time. We took the chance to rest, to reflect on the future, listening concerts, and above all to make progress in the case concerning our new main club. Please forgive us, we don't want to spoil, and for that reason we can't say now more about it. However we would like to thank you for your incredible great patience i please keep your fingers still crossed! We sincerely hope that we may say much more shortly.
In the meantime, we invite you all to the "Nowy Teatr"! See you soon!
Pardon, To Tu przy Nowym Teatrze, ul. Madalińskiego 10/16; 02-513 Warszawa (Mokotów)