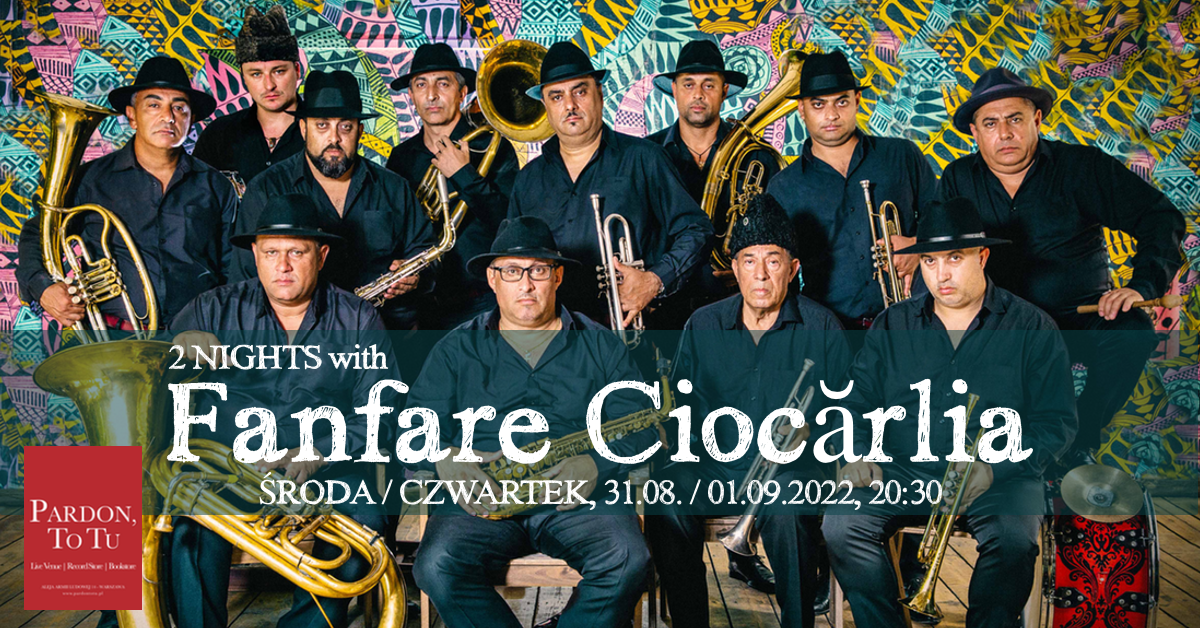 Event details
Czw/Thur | 01/09/2022
20:30
Al. Armii Ludowej 14; 00-637 Warszawa
KUP BILET / BUY TICKETS
Według BBC są obecnie najsłynniejszą bałkańską orkiestrą dętą na świecie. Pochodzący z położonej w północno-wschodniej Rumunii, romskiej wioski Zece Prăjini, 12-osobowy zespół przez ponad dwie dekady wydal 10 płyt, a ich muzyka, która słynnie z szalonej precyzji w karkołomnych tempach, nadała im status kultowych i sprawiła, że na stałe zagościli na scenie muzycznej od punka po klasykę.
Jesteśmy zaszczyceni, że z okazji jubileuszu 25-lecia zespołu, swoją europejską trasę koncertową rozpoczną dwoma koncertami w Pardon, To Tu i po 14 latach ponownie zawitają do Warszawy. Bardzo serdecznie zapraszamy na dwa wieczory z legendarnym zespołem Fanfare Ciocărlia!
Środa / Czwartek, 31.08. / 01.09.2022, g. 20:30
Bilety 1-Dniowe: 89 zł (przedsprzedaż) / 99 zł (w dniu koncertu)
Adres: Aleja Armii Ludowej 14; 00-637 Warowszawa
Bilety są dostępne za pośrednictwem naszej strony internetowej www.pardontotu.pl, strony Going., stacjonarnie w "Pardon, To Tu" przy barze (bilety kolekcjonerskie) oraz w Empikach. Bilety można także nabyć w dniu koncertu (od godziny 19:00) 'na bramce', o ile nie zostaną wcześniej wyprzedane.
Fanfare Ciocărlia:
Two and a half decades, thousands of shows and 9 studio albums later, Fanfare Ciocărlia were at the pinnacle of their career when a pandemic shocked the world. This unprecedented event has meant the same for them as it has for millions of other artists around the world: an abrupt stop to all work.
And while the world seemed to be at a standstill, the band's many fans became active and helped them to complete their long-planned 25th anniversary album with financial support and words of encouragement. Now the results can be heard: "It Wasn't Hard To Love You" is a musical ode to Fanfare Ciocărlia's legions of fans. It is the latest chapter in the story of a big band from a small village, a band that wants to put smiles on people's faces, and a band that yearns for a long future of thrilling concerts extending deep into the night.